GREEN EXTRUSION ARRIVES AT ALUMINUM INSIGHTS
27-10-2021
---
Not just advance technology: energy saving and reduced emissions to achieve greater quality and competitiveness.
Different alloys have become the answer for a wide variety of applications for traditional industries, such as the construction sector, seeking to develop increasingly demanding and sophisticated products required by the automotive and aerospace sectors. For a number of years industrial manufacturers have been investing considerable resources into redefining materials for forming structural components, substituting traditionally used steel with the aluminum, thanks to the high workability and extensive possibilities offered in aluminum extrusion, where molding the mechanical features of the end product are concerned. Reducing the weight of a vehicle and increasing the characteristics of resistance and shock absorption is not only advantageous to the environment, but also provides improved safety features.

A growing demand for increasing volumes of manufactured products is facing European and US extruders who, with the exception of some larger, well-known groups, are mostly brave small companies with limited resources. Therefore, they have very little room for error. Aluminum Insights, is one of these courageous front runners. Based in Syracuse (IN), its 76,000 square foot manufacturing facility begins with a high-efficiency 2,920 ton extrusion press and extends through an array of CNC fabrication and kitting operations to deliver assembly-ready parts at their customers' line-side kanbans. The extrusion plant ordered during winter 2020, after detailed technical discussions, Aluminum Insights was fully convinced by Presezzi Extrusion's high performance/cost ratio solutions, which were supported by recent references for similar lines from other top-level US customers. The additional plusses of the Presezzi Extrusion Group proposal were the quick local response and service capabilities (thanks to Presezzi Extrusion Norh America) that eventually led this important order to be assigned to Presezzi Extrusion Group.

In October 2021 Presezzi Extrusion team along with the Board Members of Aluminum Insights have performed the Factory Acceptance Tests on the new indirect extrusion press. During the test the press and all the downstream equipment was inspected, and some cycle performed along with technical team of Aluminum Insights to meet all contractual milestones before shipment. The feedback received from Aluminum Insights team was very positive and the equipment was successfully accepted and cleared for shipment. The entire Presezzi team Is looking forward to the installation and commissioning phase: the latest technology supplied to Aluminum Insights will be installed and commissioned during first quarter 2022.
The perfect combination of the mechanical equipment powered by Presezzi Extrusion electrical and automation systems guarantee remarkable efficiency in terms of hourly production costs (OpEx); thus providing Aluminum Insights with the shortest ROI and high market competitiveness, in full respect of the environment.

This 26-MN front loading extrusion press, will process each-inch billets of length between 600 and 1800 millimeters, 100% manufactured in Italy and is equipped with the latest technological packages developed by PRESEZZI GROUP, including the patented PE.E.S.S. environmental friendly energy-saving system. A sustainable technological package, that will permit a reduction in installed power and energy consumption: indeed our unique system is capable to stop the unnecessary pumps during the extrusion phase, therefore reducing the energy consumption and notably enhances the performance in terms Dead Cycle Time reduction and consequently productivity increase. The press will be equipped with fully electric billet loader and high speed die change station. PE.E.S.S. also is equipped with a VFD (Variable Frequency Drive) that minimizes energy consumption; the plant power factor is dictated and optimized by extrusion conditions since not all pumps are required to function at maximum delivery rates. The HMI solution with dedicated control pulpit is designed for an extraordinary experience of the machine control, for integrated diagnostics and energy management, meeting industry 4.0 machinery feedback, including maintenance and remote service support.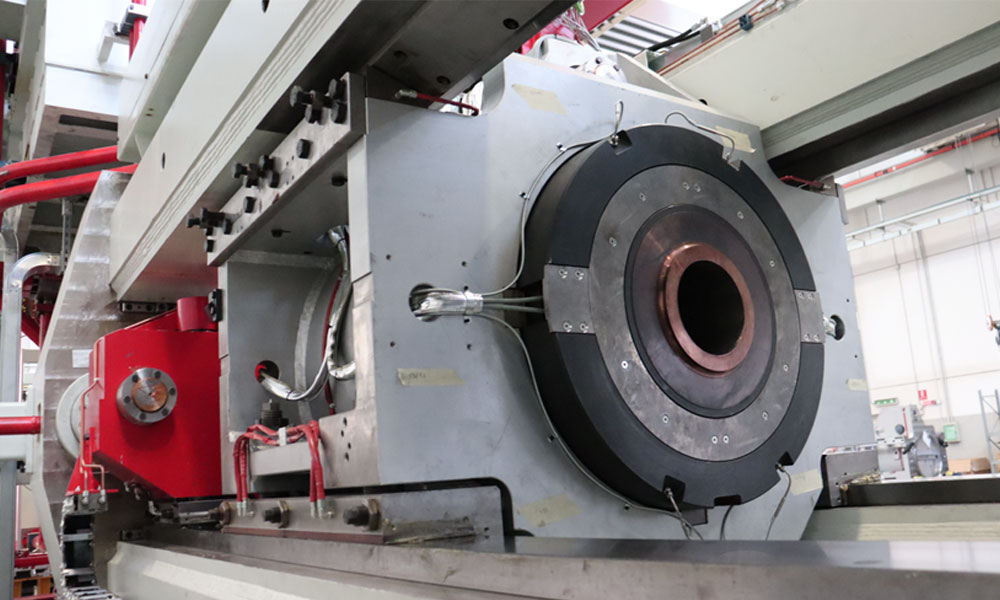 In addition to the extrusion press Presezzi Extrusion will also supply complete log oven area and complete handling system, including single-puller frontal type and fly saw, cooling table, stretcher, final cut to end saw, stacker and basket handling conveyors. Going into detail, the extremely flexible Presezzi Extrusion line will be designed with the following key design figures:
COIM log heating oven with an hot logs saw, that guarantees perfectly uniform heating for the billets or logs, both across the diameter section as well as in the lengthwise direction, with low energy consumption and minimal emissions. Gas consumption in the furnace will be enhanced thanks to the use of optimal combustion ratio and the implementation of regenerative inlet air pre-heating, which will employ exhaustion heat.


Complete downstream made of HECS® cooling system air/water. The construction of the HECS® cooling system air/water is made entirely from AISI steel. Instruments such as valves, pumps and sensors are always accessible and thus enable simple and ergonomic control and maintenance. To determine the dimensioning of the cooling systems Presezzi Extrusion uses its self-developed software; the employed mathematical model has proved successful over the years. The cooling process operates by mixing water/air and has an excellent cooling efficiency with low power consumption. The cooling gradient can be continuously and automatically adjusted to reach the ideal cooling curve, depending on the specific alloy and the specific profile design, thus maximizing the mechanical properties of the end-product.


Single puller frontal type complete with puller saw machine for fly cut. The safety factor is guaranteed since the on-board motor and stiff kinematics ensure that the puller cannot break in case of collision.


Cooling bed with 50 ton stretcher. The system consists of a belt conveyor, driven by means of an electric motor driving a shaft installed on the outlet side of the stretcher, which have the purpose to transfer extruded sections from the batching/cooling table under the Stretching heads. Each belt is made of special material with a very smooth surface and high mechanical resistance. All the belts are independently retractable according to the position of the stretcher movable head, except for the first portion of the table.


Finishing saw machine and automatic profile stacker up to 10 meters. In the cold-cut area the precision cutting saw with optimum exhaust system is particularly important. It offers optimal chip extraction, high production of short profiles, precision-cut dimensional stops up with high accuracy.


Ageing Oven at the end of the extrusion line, suitable in order to ageing 16 baskets of extruded product, totally engineered and built by Presezzi Extrusion.


Plug & Work components: Work concept safeguarding shorter commissioning times and faster plant ramp-up phases. Already before delivery and startup the automation systems are tested and optimized close to daily practice in the Presezzi Extrusion facilities. A large amount of automation components are therefore installed in a functional manner including original switch cabinets, computers, control desks and software in order to inspect and test them carefully before startup by means of simulations under realistic conditions.


Digital optimization tools for extrusion presses: the experts of the Technical Service of Presezzi Extrusion Group focus on a combination of measures which in total result in a holistic and sustainable solution: the use of most modern digital tools, the qualification of the operating staff through training courses by the plant manufacturer and smart, preventive maintenance concepts.


Technical Service everywhere and anytime. Irrespective of whether spare parts, upgrades, tailor-made service packages to support maintenance activities, special training courses or digital technologies for extrusion presses are required, the Technical Service of Presezzi Extrusion is available worldwide to offer operators of extrusion presses an efficient service totally according to their requirements along the entire process chain. An advantage is the comprehensive know-how of Presezzi Group, whose staff members provide services tailored to customer's plant – on time, on budget and with the required quality. Operators of extrusion presses can fully rely on the services and global presence of Presezzi Group – and this throughout the life cycle of their plant and always with the focus on increasing quality, productivity and availability.


Project Management. Presezzi Group, acting as a general contractor, ensures that projects are implemented professionally and on time: thanks to his project management capabilities, also will act as project master and coordinate all project the activities, making sure that Aluminum Insights will match its target in terms of plant performance and time schedule.
And in this connection, we would like once again to thank partner Aluminum Insights - who are in fact real front-runners - for the constant stimulus, ideas and co-operation they offer in a spirit of win-win partnership, always striving to be a step ahead.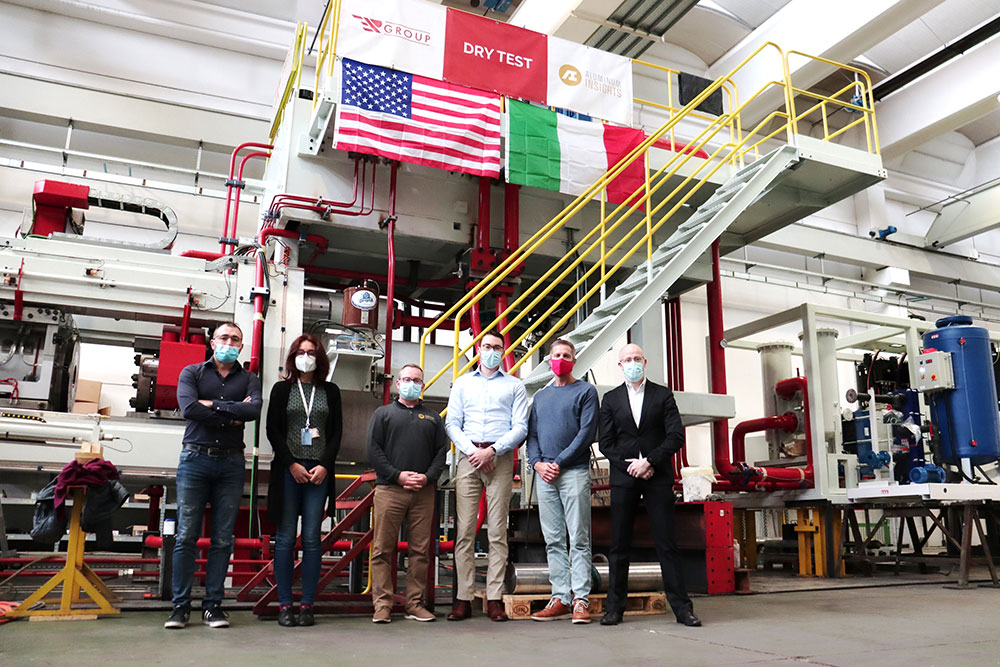 The brilliance of the results we obtain is a mirror of the passion of the people who work on our projects, their perseverance, their resilience: a unique and distinctive wealth of knowledge. We remain beside our partners, step by step, day by day, with our focus, our passion, our experience and our services. We defined our strategy based on a clear vision of the challenges awaiting us currently and in the future. Being in a global market requires us to be focused on innovation and strong integration and cooperation with suppliers and customers. We are proud of our technological achievements in support of the progress of the Aluminum and NF-Metal industries through the experienced companies that make up the Presezzi Extrusion Team. This has been possible thanks to our innovative spirit, investments in R&D, and the partnership established with our Customers.

The pride we feel in these achievements will drive us onward to meet all the challenges of the future.